I felt like I was talking to Captain America's grandma …. and you don't say no to Nana America. I'm joining Julie and Mary in this fight. Let me know if you will too. ~ Greg Wohler, Owner of Valkyrie Combat Gun Store –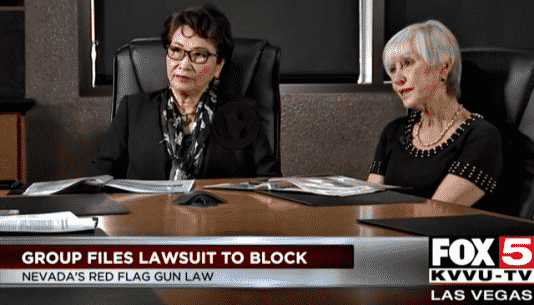 "These 2 badass golden girls singlehandedly started NevadansCan, testified before the State Assembly, and filed for an injunction against AB291, which has bought us some time. They did all of this because they believe in the 2nd Amendment, and because they're more committed to it than we are. Everyone else gave up after AB291 passed. You, me, the NRA, EVERYONE. Everyone except for 2 tough Grandmas who are cooler than all of us."
Read more: https://valkyriecombat.com/ event-join-the-fight-against- the-nv-red-flag-law/
Greg Wohler, the owner of the Valkyrie Combat Gun Shop, the host of the Stop The Red Flag Law Rally being interviewed by Tina Trenner, Radio Show Host on KDWN 101.5FM 720AM of Las Vegas
Iris Stone, who not only received a certificate for almost $1000 in custom services from our shop, but also bought her very first AR! Congratulations Iris!
We are thankful for everyone's generous support and donations during our first rally on January 19, 2020. The event helped generate one of the best fundraising weeks on record. If you missed the event and would like to support Nana America, visit our website, www.nevadanscan.com.
To send a donation check: Pay to NevadansCAN and mail to 2505 Anthem Village Dr. E354, Henderson NV 89052.
NevadansCAN is a Non-Profit Grassroots Citizens Action Network. Our goals are to defend and protect the United States Constitution, the Nevada State Constitution, and traditional American values by promoting grassroots activism in the legislative process.
NevadansCAN
2505 Anthem Village Dr. Suite E #354, Henderson, NV 89052
This email was sent to {email} | Unsubscribe | View in browser
You are receiving this email because you have signed up on our website or subscribed to our email list.
EMAIL VIA PABBLY