NevadansCAN Welcomes Elko County Commissioners and Sheriff Aitor Narvaiza to Join Our Injunction Lawsuit.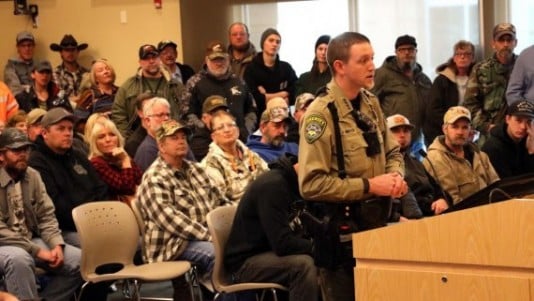 February 6, 2020 from Elko Daily Press
ELKO — "Elko County does it again," County Commissioner Demar Dahl said at the end of Wednesday afternoon's commission meeting. Dahl was talking to a group of more than 200 people who crowded into the commissioners' chambers to support Second Amendment gun rights and criticize Nevada's new "red flag" law. "You know this, that the agencies pay more attention to you when you're willing to stand up," Dahl said.
Like the crowd that gathered at the commissioners meeting on March 20, 2019 to express their support for Elko County becoming a Second Amendment Sanctuary County in response to Nevada's new gun background check law, Wednesday's crowd was vocal, applauding and shouting support for comments made throughout the meeting.
The commissioners approved a motion to join the lawsuit which Nevadans Citizen Action Network, a nonprofit group, filed on Dec. 4 seeking to block Nevada's red flag law that went into effect on Jan. 1. The new law, like other red flag laws around the country, allows people to petition a court to temporarily seize a person's firearms if the person displays high-risk behaviors.
Click Here to Read More…
As a grassroots citizens action organization, NevadansCAN doesn't have a Michael Bloomberg or George Soros to fund its legal activities. But we do have "We the People". We urgently need every fellow freedom loving American to stand with us to make this "Stop The Unconstitutional Red Flag Law" project successful.
Want to help protect our Bill of Rights? Donate today to help us reach our fundraising goal. Click "here" to donate!
To send a donation check: Pay to NevadansCAN and mail to 2505 Anthem Village Dr. E354, Henderson NV 89052
NevadansCAN is a Non-Profit Grassroots Citizens Action Network. Our goals are to defend and protect the United States Constitution, the Nevada State Constitution, and traditional American values by promoting grassroots activism in the legislative process.
NevadansCAN
2505 Anthem Village Dr. Suite E #354, Henderson, NV 89052
This email was sent to {email} | Unsubscribe | View in browser
You are receiving this email because you have signed up on our website or subscribed to our email list.
EMAIL VIA PABBLY