Looking Forward to Rally with You Soon !!!
NevadansCAN, Valkyrie Combat, and the Tina Trenner Radio Show wish to thank all who came out and supported our successful Stop the Unconstitutional Red Flag Law event on Sunday, January 19th.
Due to the COVID-19 mandatory shutdown, our March 22 rally will be rescheduled as soon as the ban is lifted… In the meantime, Be Well & Stay Strong!!
Festivities commenced with hundreds of freedom loving patriots with a sense of resolve and passion standing arm in arm in support of NevadansCAN's Injunction Lawsuit to protect, not only the 2nd Amendment, but all rights being infringed by the Red Flag Law.
Notable speakers, candidates and businesses that participated in this first "Stop The Red Flag Law" rally are:
• Tina Trenner, 720KDWN Radio Talk Show Host
• Niger Innis, Fox News Contributor, Civil Rights Leader
• Alan Lefebvre, Legal Council for NevadansCAN, Former Nevada State Bar President
• Nick Alfonsetti, Chair of 2A Action Committee of NevadansCAN
• Greg Wohler, Owner of Valkyrie Combat Gun Store
• Sam Peters, candidate for Congressional NV-4
• Citlaly Larios-Elias, candidate for Congressional NV-1
• Jim Small, candidate for Assembly NV-2
• Mack Miller, candidate for Assembly NV-5
• Tony Palmer, candidate for Assembly NV-7
• Cherlyn Arrington, candidate for Assembly NV-21
A very special thanks to all the businesses and grassroots groups who donated drawing prizes, food, drinks and signs:
• NevadansCAN – trays of sandwiches and chips
• Carl's Donuts – dozens of donuts
• Real Water – cases of specialty water
• Hawkins for Nevada campaign – Coffee
• NRA-ILA – petition drive and signs for "Protecting Bill of Rights"
• UPMA
• Veterans Vitality & Dynamic Stem Cell Therapy
• Dark Alliance Firearms – drawing prize
• The Range702 – drawing prize
• Savior Equipment – prize
• Valkyrie Combat – grand prize of their specialty customization package worth $800
Heartfelt Thanks To Our Team & Welcome To Our New Members!!!
During the event, NevadansCAN launched their Membership drive. For $25 a year, you will be a part of our action network fighting to preserve and protect our constitutional rights and liberties. By providing email addresses, participants are insured of being kept up to date with NevadansCAN latest initiatives and activities.
NevadansCAN RFL Injunction Lawsuit received generous financial and moral support. However, we cannot rest on our laurels. An enormous amount of work lies ahead of us. We need your help to spread our message. Our Bill of Rights is in peril. We must fight back.
Send this information to your family and friends and urge them to send it to their family and friends. Let's start a chain request so strong that it will choke the life out of the anti-2nd Amendment and anti-Bill of Rights proponents. Send them a message in no uncertain terms that WE THE PEOPLE fight for what we believe in and believe in what we fight for.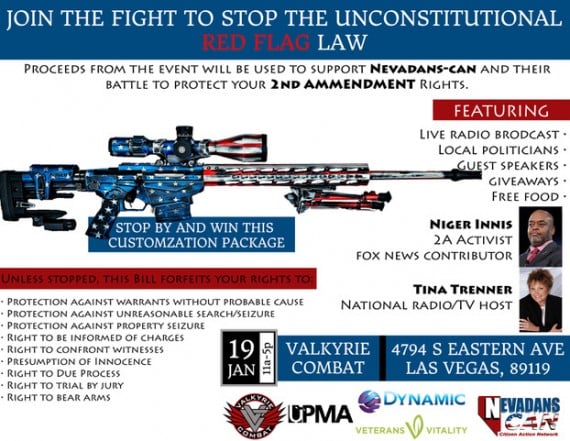 To DONATE to our Red Flag Law Legal Fund, please visit the following online donation sites.
• Gofundme page: https://www.gofundme.com/f/stop-the-unconstitutional-red-flag-law
• PayPal or credit card: https://nevadanscan.com/donate/
• Check: Make out to NevadansCAN and mail to 2808 Anthem Village Dr. E354, Henderson NV 89052
NevadansCAN is a Non-Profit Grassroots Citizens Action Network. Our goals are to defend and protect the United States Constitution, the Nevada State Constitution, and traditional American values by promoting grassroots activism in the legislative process.
NevadansCAN
2505 Anthem Village Dr. Suite E #354, Henderson, NV 89052
This email was sent to {email} | Unsubscribe | View in browser
You are receiving this email because you have signed up on our website or subscribed to our email list.
EMAIL VIA PABBLY