Come Join Our Fight To Stop
The Unconstitutional Red Flag Law
On Sunday, January 19, 2020, @ 11AM
VALKYRIE COMBAT GUN STORE
4794 S. Eastern, Las Vegas 89114
Bring your family, friends and neighbors to meet and mingle with the businesses that are supporting our "We Love the Bill of Rights" project. Enjoy free food & music while listening to special speakers, locally elected officials and candidates being interviewed by the Tina Trenner Show on KDWN.
https://stopredflaglaw.eventbrite.com
Cost: Free (All Donations are Welcome)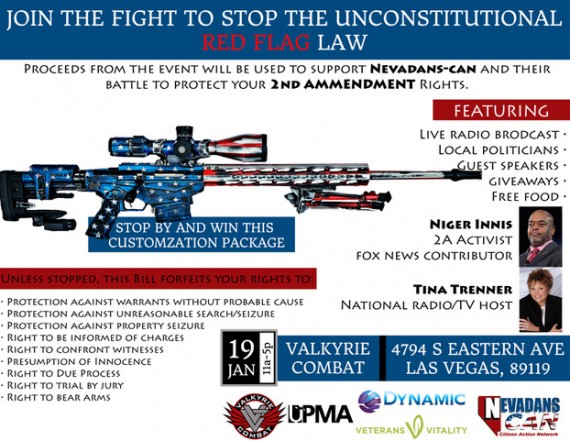 As a grassroots citizen's action organization, NevadansCAN doesn't have billionaires to fund the Injunction Lawsuit we filed to stop the "Red Flag Law" for "We The People". We urgently need every fellow freedom-loving American to stand with us to make this "Stop The Unconstitutional Red Flag Law" project successful. For more detailed information visit www.NevadansCAN.com.
Hope you can join us to protect your "Bill of Rights" on Sunday, 1/19/20…If not, please donate to our Stop The Red Flag Law Legal Fund www.gofundme.com/f/stop-the-unconstitutional-red-flag-law
NevadansCAN is a Non-Profit Grassroots Citizens Action Network. Our goals are to defend and protect the United States Constitution, the Nevada State Constitution, and traditional American values by promoting grassroots activism in the legislative process.